Watch and Read about Ukraine Today
Contact us for information updates
A street view service of Ukrainian cities Kiev, Kharkiv, Lviv, Odessa and Donetsk is now available on Google!
Kuyalnik Medical Muds
---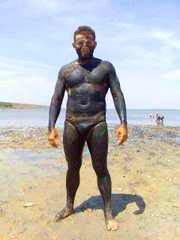 The resort Kuyalnik is a unique and one of the oldest health centers in the world. It's situated on the shore of Kuyalnik Liman (Kuyalnik Salt Lake) 13 kilometers (8,1 miles) to the north-east of Odessa. The first wooden buildings were built here in 1841. For almost 170 years, people come here to strengthen their health with the healing effect of the Kuyalnik mineral waters and muds. Due to a number of macro- and microelements and biologically active substances, the Kuyalnik water and muds have a very positive natural influence on the human body. The Kuyalnik muds help to reduce inflammatory processes, stimulate protective and adaptive reactions, and restore the functions of affected organs and systems of the human body. The Kuyalnik mineral waters are successfully used to cure diseases of gastrointestinal tract.
Another significant element of Kuyalnik therapy is Kuyalnik brine (Kuyalnik Rapa) – a very salty water solution from the lake which contains a lot of various mineral compounds.
The health centers of Kuyalnik Lake offer treatment for people having diseases of nervous system (neuralgic syndrome of osteochondrosis of spine, after-effects of arachnoiditis, neuritis of cranial and peripheral nerves, etc.) and musculoskeletal system (arthrosis, arthritis, chronic (rheumatoid) polyarthritis, etc.). There is also available treatment of problems of male and female reproductive organs (inflammatory processes, male and female sterility, impotence, and prostatitis). At the Kuyalnik resort you may also try the healing properties of a salt mine (analogical to Solotvinsky mines in Zakarpatia) which is used to cure diseases and dysfunctions of respiratory apparatus. You may go through the course of treatment with underwater stretching of spine and different kinds of underwater massage.
There is a number of health centers in Kuyalnik area. Mostly built in the Soviet time, the buildings aren't very modern and fashionable; at the same time some of them have been renovated and can offer quite adequate conditions comfortable stay. The prices for services are quite reasonable if compared to the world health resorts with similar characteristics. Usually, the health centers start working in the beginning of April and are open until October. In average, a day in a health center in Kuyalnik costs from 65 to 85 USD including lodging, treatment and meals.

Our professional service team and guides are always at your service