Watch and Read about Ukraine Today
Contact us for information updates
A street view service of Ukrainian cities Kiev, Kharkiv, Lviv, Odessa and Donetsk is now available on Google!
Metro in Kiev
---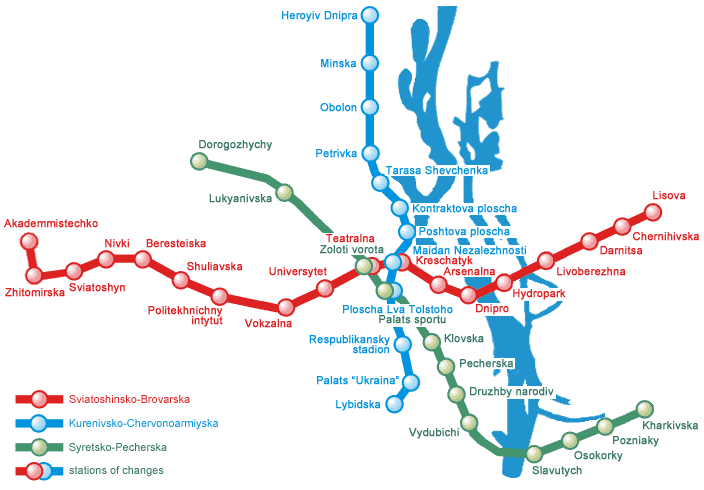 Kiev Metro (underground, subway) is the fastest, very inexpensive and convenient kind of public transport in the city. The Kiev metro is open from 5.30am till midnight. The cost of one ride is 50 Kopeks (it is about 10 cents U.S), no matter how far one is travelling.
The average interval between trains is 1-2 minutes in the rush hours (8-10 am, 5-7 pm) and 5 minutes during the rest of the day. After 10pm you may have to wait 15-20 minutes. Trains strictly follow the timetable, so passengers always know they will arrive to their destinations on time.
All names of stations are in Ukrainian (rarely in Russian) in the metro. It will be better if you have a map of metro with yourself, or just find out how to get for necessary metro station beforehand.
The construction of metro in Kiev began in 1949. Metro connects two banks of the Dnepro River. The Metro lines exceed 60 km. There are three Metro lines: Sviatoshinsko-Brovarska, Kurenivsko-Chervonoarmiyska, Syretsko-Pecherska. The duration of a trip from the central station is about 15-20 min.
There is a metro station "Arsenalna" in Kiev, which is one of the deepest in Europe. Two escalators connected by an intermediate underground hall lead to the metro trains. The walls of both underground halls are faced with marble.
Because of the complicated underground river system, the metro in Kiev has relief structure. Even if you prefer the ground transport, we'd advice you to visit underground part of the city. It is interesting from the architectural perspective. There is one more metro station "Dnipro", which attracts attention of its location on the open platform raised above the embankment and connects the exit from the underground tunnel on the hill slope with the Metro Bridge. The "Universitet" metro station is faced with rose marble, its niches contains the busts of outstanding figures of the Ukrainian and Russian science and culture - T.Shevchenko, H.Skovoroda, A.Pushkin, D.Mendeleev, I. Franko and others. The walls and arcs of the underground hall on "Zoloti vorota" metro station are adorned with mosaics ornaments and portraits of figures of the Old Rus history. Article provided by Marina Pristinskaya
Our professional service team and guides are always at your service