Watch and Read about Ukraine Today
Contact us for information updates
A street view service of Ukrainian cities Kiev, Kharkiv, Lviv, Odessa and Donetsk is now available on Google!
Kiev Bridges
---
Kiev Bridges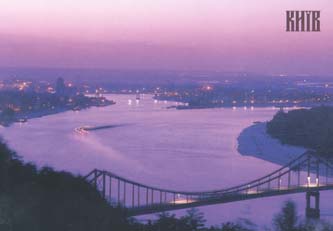 Bridges are very poetic constructions. They connect coasts, cities, states, people and hurts. Big and small, old and new there are more than 100 bridges in Kiev and there are seven bridges span the Dnipro and all of them are special with own history.

The first mention about bridge crossing of the Dnipro river is to be found in the Tale of the Bygone Years. Under 1115 the chronicler wrote that Volodymyr Monomachos "made a bridge across the Dnipro".

The Paton Bridge is the oldest in Kiev, opened in 1953 and named for its creator, Yevhen Paton, the inventor of a progressive electric welding technology. The 1.5-kilometer bridge was constructed by method of electric welding. At one time it was Europe's longest bridge, serving automobiles and the city's tramway system.

While a cable-stayed bridge across the Rhone opened in Dusseldorf to great fanfare during the 1970s, Moscow Bridge in Kyiv is similar bridge completed in 1972. Held aloft by kilometers of thick braided cables, six-kilometer Moscow Bridge is considered by many to be one of the most beautiful structures in Kiev.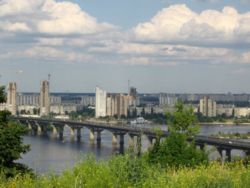 There are two railway bridges, Podolsky and Darnitsky cross the Dnipro. Two more bridges have the underground –bridge, which is laid to hydro-park and Southen transition Bridge. This is a giant bridge, the newest among the Kiev bridges, constructed already in independent Ukraine.

There is also pedestrian bridge across the Dnipro, well known as Parkovy Bridge. The bridge was built in 1957. Its length is over 400 meters. The biggest pedestrian bridge in Europe. It connects the right the right bank with Troukhanov Island. The bridge has a tracery silhouette.

"The Bridge of Kisses" is the pedestrian bridge thrown between Khreshchaty Park and the City Park. The 60-meter bridge was designed by Y.Paton and built in 1911. There is a legend saying, that the loving couple kissed here, will love each other forever.
Read more about
Our professional service team and guides are always at your service