Watch and Read about Ukraine Today
Contact us for information updates
A street view service of Ukrainian cities Kiev, Kharkiv, Lviv, Odessa and Donetsk is now available on Google!
Notes About Ukraine
---
An oak tree of 700 years old grows in Zaporizhya (Zaporozhye)


On the memory stone near the Zaporizhian oak there is an inscription saying that the age of it is about 700th y.o. But a lot of historians incline to the opinion that the age of the tree is much more than 700 year.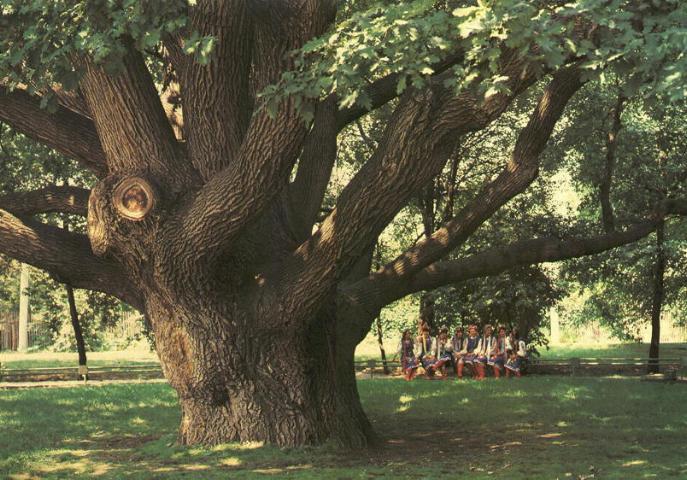 In 2002, the Legendary Zaporizhian Oak celebrated its 700th anniversary. It is evidently that this oak became a witness of many historical events through centuries.

When standing near this giant tree, one feels the influence of unbelievable power of nature! It seems you approach something undiscovered and remote. The antiquity holds you for a moment there.

During the "blossoming" period of oak's life the diameter of green crown of the tree was about 50 meters. Six men c ould hardly encompass the oak tree's trunk with outstretched arms.

Some historical resources say that during the Second World War Hitler wanted to withdraw the oak, as a symbol of hisown power, and to take it to Germany with him. From the ancient time oak used to be a symbolic tree in German culture.

In 2001 the historical and cultural center was open near the old oak tree for the public excursions. The center is located on Verhnya Khortytsya, Zaporizhya.
The oak is observed by the French biological institute and the botanic gardens from Poland and German. The Ukrainian forestries research the methods of its rescue and prolong the life of old oak tree!
Read more about
Our professional service team and guides are always at your service